The diagram below, created by Satyan Lakshminrusimha, is based off of a recent study by Andersson et al published in Maternal Health, Neonatology and Perinatology.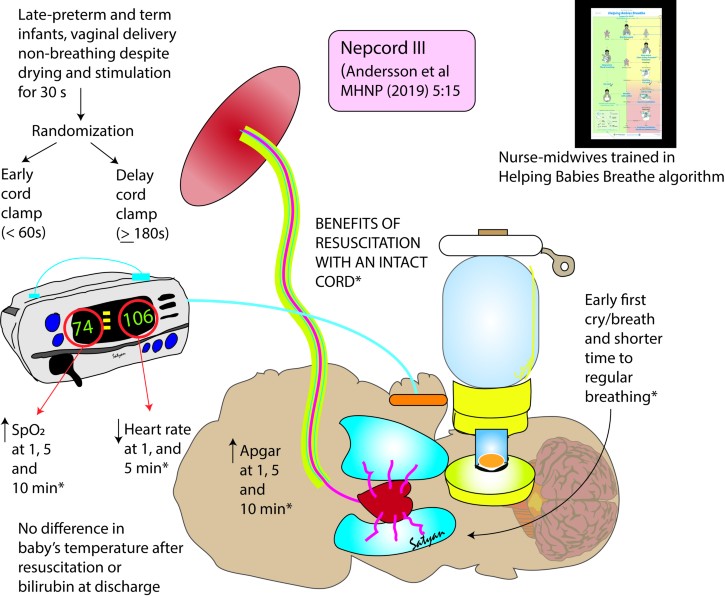 Based on Andersson et al. Maternal Health, Neonatology and Perinatology, 2019.
Figure copyright Satyan Lakshminrusimha (slakshmi@ucdavis.edu)
Andersson and colleagues conducted a randomized clinical trial of resuscitation with early cord clamping or resuscitation with an intact umbilical cord in late-preterm and term infants born by vaginal delivery and not breathing at 30s after birth. Nurse-midwives trained in Helping Babies Breathe (HBB – © American Academy of Pediatrics) conducted the trial. The benefits of an intact umbilical cord for at least 180s (identified by *) included higher preductal pulse oximetry (SpO2) and Apgar scores at 1, 5 and 10 min after birth and lower heart rate at 1 and 5 min. Delayed cord clamping also resulted in earlier cry/breathing. Body temperature after resuscitation and transcutaneous bilirubin at discharge were similar between early and delayed cord clamping groups.
Read the article:
Intact cord resuscitation versus early cord clamping in the treatment of depressed newborn infants during the first 10 minutes of birth (Nepcord III) – a randomized clinical trial
Ola Andersson, Nisha Rana, Uwe Ewald, Mats Målqvist, Gunilla Stripple, Omkar Basnet, Kalpana Subedi & Ashish KC
Volume 5, Article number: 15 (2019), DOI: 10.1186/s40748-019-0110-z