NEC-zero recommendations from scoping review of evidence to prevent and foster timely recognition of necrotizing enterocolitis
Maternal Health, Neonatology and Perinatology
2017
3:23
Received: 22 June 2017
Accepted: 28 September 2017
Published: 18 December 2017
Abstract
Background
Although decades have focused on unraveling its etiology, necrotizing enterocolitis (NEC) remains a chief threat to the health of premature infants. Both modifiable and non-modifiable risk factors contribute to varying rates of disease across neonatal intensive care units (NICUs).
Purpose
The purpose of this paper is to present a scoping review with two new meta-analyses, clinical recommendations, and implementation strategies to prevent and foster timely recognition of NEC.
Methods
Using the Translating Research into Practice (TRIP) framework, we conducted a stakeholder-engaged scoping review to classify strength of evidence and form implementation recommendations using GRADE criteria across subgroup areas: 1) promoting human milk, 2) feeding protocols and transfusion, 3) timely recognition strategies, and 4) medication stewardship. Sub-groups answered 5 key questions, reviewed 11 position statements and 71 research reports. Meta-analyses with random effects were conducted on effects of standardized feeding protocols and donor human milk derived fortifiers on NEC.
Results
Quality of evidence ranged from very low (timely recognition) to moderate (feeding protocols, prioritize human milk, limiting antibiotics and antacids). Prioritizing human milk, feeding protocols and avoiding antacids were strongly recommended. Weak recommendations (i.e. "probably do it") for limiting antibiotics and use of a standard timely recognition approach are presented. Meta-analysis of data from infants weighing <1250 g fed donor human milk based fortifier had reduced odds of NEC compared to those fed cow's milk based fortifier (OR = 0.36, 95% CI 0.13, 1.00; p = 0.05; 4 studies, N = 1164). Use of standardized feeding protocols for infants <1500 g reduced odds of NEC by 67% (OR = 0.33, 95% CI 0.17, 0.65, p = 0.001; 9 studies; N = 4755 infants). Parents recommended that NEC information be shared early in the NICU stay, when feedings were adjusted, or feeding intolerance occurred via print and video materials to supplement verbal instruction.
Discussion
Evidence for NEC prevention is of sufficient quality to implement. Implementation that addresses system-level interventions that engage the whole team, including parents, will yield the best impact to prevent NEC and foster its timely recognition.
Keywords
Necrotizing enterocolitisVery low birth weightPreventionClinical practice guidelineEvidence-based practiceNeonatal intensive careInfantNursingParent engagementTranslating Research into Practice FrameworkNEC-zeroPractice guidelinesScoping review
Neonatal complications increase the cost of prematurity 4–7 fold; [1] but complication rates vary widely among NICUs, especially for those born very low birthweight (VLBW; <1500 g) [2–4]. One of the deadliest complications is necrotizing enterocolitis (NEC), a multi-factorial acquired intestinal disease that is the primary cause of emergency neonatal surgery [5]. NEC involves systemic inflammatory activation and progresses to full intestinal necrosis when severe [6]. NEC survivors can have very long hospital stays [7], require parenteral nutrition long-term, and experience delayed neurodevelopment [8]. Preventing one case of surgical NEC can save up to $250,000 per case, and when not preventable, timely recognition is a priority [9]. Surgery is required in 20–40% of the cases; and up to 50% of those needing surgery will die [4, 6, 10].
Background
As with many neonatal complications, NEC rates vary across NICUs [4, 11–13]. Quality improvement (QI) methods have been shown to reduce rates of NEC [14]. Central to QI is the consistent, measurable implementation of evidence into practice. In 2010, a NEC Clinical Practice Guideline published by the Cincinnati Children's Hospital Guideline Group recommended: 1) preferential feeding of mother's own milk (MOM), 2) providing pasteurized human donor milk (HDM) if MOM is not available, 3) using ibuprofen instead of indomethacin to close a patent ductus arteriosus (a common challenge in prematurity relating to NEC), and 4) administering antenatal steroids to mothers prior to delivery [15]. However, this guideline was not updated because of lack of a team to do so and was retired in 2015 [15]. In response, we sought to fill the gap for a NEC prevention guideline by applying a stakeholder-engaged process to conduct a scoping review and propose implementation recommendations in line with best practices to create trustworthy clinical guidelines [16–19]. To reflect the goal of preventing NEC, ultimately driving its incidence to a goal of zero, the effort was named "NEC-Zero." As parents are the first to notice symptoms and arguably have the most to lose when NEC strikes, they participated as expert stakeholders.
Purpose
The purpose of this paper is to present a scoping review with two new meta-analyses, clinical recommendations, and implementation strategies to prevent and foster timely recognition of NEC. All papers and position statements included in this review defined NEC as Bell's Stage II or greater.
Implementation science framework
To guide efforts, the Translating Research Into Practice (TRIP) implementation science framework was used because of its emphasis on framing evidence-based interventions in intensive care environments in partnership with stakeholders [
20
–
23
]. Building on Roger's Diffusion of Innovation theory applied to health [
24
], the TRIP identifies several factors that impact adoption of evidence-based innovations in practice. Factors include 1) innovation characteristics; 2) communication processes; 3) users; and 4) the social system (see Fig.
1
) [
20
]. The TRIP purports that to be adopted, an evidence-based intervention should be: a) better than usual care; b) compatible with clinicians' values, c) simple, d) trialable in a low risk setting, and e) improve outcomes (process or patient-related). Figure
1
depicts how the TRIP was used to guide this stage of our process.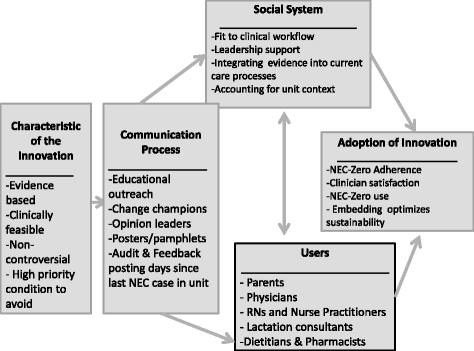 Methods
Scoping review approach
A stakeholder engaged scoping review was conducted to answer key questions about NEC prevention, timely recognition, implementation strategies and ways to engage parents [25, 26]. Six key steps are typical to scoping reviews: 1) identifying the key questions, 2) finding relevant studies, 3) selecting relevant studies to answer the questions, 4) extracting the data from the studies, 5) summarizing and reporting results, and 6) consulting stakeholders to appraise the literature, propose new resources and provide insights missing from the literature [26–28].
The group of expert stakeholders was selected in four steps. First, a national group of clinical and research experts were invited because they had published significant research and EBP improvement work around NEC. Second, a group of parents who had been impacted by NEC were recommended by the president of the Preemie Parent Alliance from the NEC Society (E.U.), Graham's Foundation (L.M.), and Hand to Hold (T.C.). Third, a doctorally prepared Clinical Nurse Specialist engaged local stakeholders from the NICUs who intended to implement the recommendations. Finally, at the first meeting all were asked to identify expertise missing from the group, leading to more bedside nurses and a pharmacist joining. Stakeholder characteristics (
N
= 20) are portrayed in Table
1
and are referred to as "experts" from this point forward.
Table 1
Characteristics of NEC Working Group Experts (N = 20)
Characteristic

% (N) or Mean (SD)

Female

80% [16]

Years in Practice (Mean with SD)

18.6 (7.4)

Role

 Registered Nurse (Bedside NICU, Lactation Specialist, Librarian/Nurse, Neonatal Nurse Practitioner or Scientist)

45% [9]

 Parent Advocate (Architect, Musician, or Information Specialist)

15% [3]

 Pharmacist

5% [1]

 Physician (includes Neonatologist, Medical Directors, Scientists)

30% [6]

 Registered Dietician

5% [1]

Degree (Highest degree earned)

 Bachelors (B.S., B.S.N.)

20% [4]

 Masters (MArch., Med., MLIS, M.S., M.P.H., or M.H.A.)

25% [5]

 Doctorate (PharmD, DNP, PhD, or MD)

55% [11]

Geographical Location (United States)**

 Central

15% [3]

 Eastern

20% [4]

 Mountain

55% [11]

 West/Pacific

10% [2]
NEC-zero description
We reviewed evidence for NEC-Zero across four evidence-based facets: 1) preferential human milk feeding; [29–36] 2) adoption of a unit-approved standardized feeding protocol; [37, 38] 3) stewarding medications particularly restricting culture-negative empiric antibiotics to <5 days [39, 40] and avoiding histamine-2 antagonists; [41–43] and 4) adopting a unit-based approach to NEC risk assessment and timely recognition [44, 45]. Withholding feedings during packed red blood cell transfusion was considered [46–48], but evidence was found to be inconclusive. We elected to exclude probiotics from this review due to controversy and lack of standardization in probiotic formulations in the US [49, 50].
Experts participated in six monthly teleconferences. To facilitate communication and ensure all voices were represented, post-meeting surveys were distributed. Meeting minutes were transcribed verbatim and shared with all participants before the next meeting. At the third meeting, subgroups were formed to allow more in-depth appraisal of literature according to each facet of NEC-Zero. Subgroup membership was distributed evenly to ensure equal representation from nursing, parents, and neonatology. The pharmacist, dietitian, and lactation consultant were specifically asked to be in certain groups (e.g. medication stewardship, feeding protocols, and human milk promotion respectively). When parent voices appeared quiet, there was follow-up after the meetings to assure time for them to contribute. Subgroups focused on one of four facets of NEC-Zero and was co-facilitated by a local stakeholder and a national expert. A recommendation template was adapted and served as an outline that assisted with searching, identifying and assessing the state of the current literature. After evaluation, rating and synthesis of the evidence was completed, the four subgroups presented their findings during an all group meeting. The research team actively facilitated the work of the subgroups.
Selection of evidence sources
The literature search was focused to answer key questions [26, 27]. Guidelines, position statements, and studies that focused on the infant born <1500 g and were published in English were included. PubMed, CINAHL, and the Cochrane databases were searched. Targeted internet searches were applied to identify guidelines and position statements from professional organizations (e.g. American Academy of Pediatrics [AAP], American Society for Parenteral and Enteral Nutrition [ASPEN], National Association of Neonatal Nursing [NANN], Society for Breastfeeding Medicine [SBM], and the World Health Organization [WHO]). When the position was very strong, the evidence for the position was described in detail by the organization, and validated with high levels of consensus, an in-depth review of original research was deferred. If no position statement was available, systematic reviews and meta-analyses were evaluated first, followed by individual research studies if no meta-analysis or position statement was available. All participants assisted with critiquing the evidence and coming to consensus on practice recommendations [26, 27].
Experts agreed that clinicians intending to use NEC-Zero practices are likely familiar with GRADE criteria to critique quality of evidence and strength of recommendations [18, 51–53]. Meta-analyses are necessary to consider a body of evidence's quality. In GRADE, observational studies are typically "low" quality but can be upgraded when magnitude of effects are consistent, significantly large (i.e. <0.5 or >2), confounding is accounted for or if there is evidence of a dose response. When a meta-analysis was not available, we combined study results using the Review Manager 5.3 software using random effects modeling. Recommendations are presented as "do it/don't do it" to reflect a strong recommendation or "probably do it/probably don't do it" to indicate a weak recommendation based on the quality of the evidence and if the quality was upgraded or downgraded (i.e. due to directness, imprecision, consistency of effects or cost balance).
Discussion
NEC remains a chief threat to the survival and health of premature infants in spite of the evidence available to reduce its incidence. Implementation guidance, toolkits, and strategies to engage parents are needed to forward improvement efforts. Prioritizing a human milk diet was best supported by evidence, position statements, and stakeholder input. While a specific feeding protocol could not be recommended, the group agreed that using a feeding protocol is evidence-based. Two new meta-analyses conducted as part of this scoping review supported the protective effect of a DHM-based fortifier and feeding protocols to reduce odds of NEC. Avoiding >4 days of antibiotics for the initial empiric course after birth and avoiding any exposure to histamine-2 antagonist medications was recommended.
This scoping review engaged expert stakeholders to review evidence focused on answering key questions and make recommendations to prevent and support timely recognition of necrotizing enterocolitis. Four subgroups reviewed evidence from 11 position statements and 71 research publications. Discussion about the evidence yielded 29 actionable recommendations and guidance on implementation strategies. This approach engaging national experts with local clinicians and parent representatives was consistent with recommendations for designing trustworthy clinical practice guidelines laid out by the National Academy of Medicine and others [16–19]. A geographically diverse expert group yielded a real-world approach to implementation of NEC prevention strategies. Evidence was strongest for promoting a human milk diet, use of a unit-adopted standardized feeding protocol and limiting exposures to unnecessary antibiotics and H2 blockers in early life. Timely recognition continues to be studied as risk tools are refined but the current state of evidence justifies a "probably do it" recommendation because of the potential for benefit, low risk, and support for consistent communication to strengthen patient safety in other areas. In upcoming years, we anticipate more information will be available to support a broad approach to timely recognition. In the meantime, engaging families and structuring assessments and communication when NEC is suspected could strengthen prompt diagnosis and quick action.
Although we reviewed evidence for holding feeding during blood transfusion, the group did not achieve consensus on best approaches because evidence was inconsistent in 2015. Anemia appears to underlie the risk for NEC with transfusion [117, 118]. Transfusion thresholds differ, few have transfusion protocols in place, and addressing confounders that reduce NEC like feeding protocols and human milk exposiure is not consistent. Experts recommended that if a neonatal group chose to hold feeding during transfusion, they should agree to how they will do so, integrate it into the feeding protocol, and address criteria to restart feeding. The approach taken in the multi-site QI project was to hold the feeding only during the transfusion, not advance the feeding volume on the day of the feeding and avoid fortifiers on that day- with significant reduction in the most severe NEC across 8 NICUs [119].
To balance the strengths of this project, we should also address its limitations. Using a scoping review vs. a systematic review approach had the potential to miss important evidence in the literature. We cannot be certain that we included all of the relevant literature. However, we were able to satisfy a diverse group of 20 experts to answer key questions about how to prevent NEC and support its timely recognition using feasible, implementation ready strategies. In an individual NICU's process to adopt evidence-based interventions this work is typically done by <5 busy clinicians who may find our results helpful to their efforts. We did not engage parents specifically whose children did not get NEC as experts, which may have limited the generalizabilty to all parents. However, the processes useful to prevent NEC are also those that support neonatal health broadly (e.g. avoiding excessive antibiotic exposure, promoting a human milk diet and supporting healthy team communication and risk awareness).
Conclusion
Stakeholders maintained engagement when they were organized around the task of answering key questions and agreed to actionable, feasible and evidence-based strategies to foster NEC prevention and timely recognition. Implementation strategies addressed staff education, parent engagement, early discussions, structuring communication, integrating reminders into electronic health record systems, and using audit and feedback mechanisms. Partnering national experts with local experts and ensuring that clinical and parent perspectives were sought yielded balanced, focused, and feasible implementation strategies that any NICU could implement today to drive their incidence of NEC to zero.
Abbreviations
AUC:

Area under the curve
CI:

Confidence interval
CRP:

C-reactive protein
DHM:

Donor human milk
FDA:

Food and Drug Administration
H2:

Histamine-2
HM:

Human milk
i-FABP:

Intestinal fatty acid-binding protein
NEC:

Necrotizing enterocolitis
NICU:

Neonatal intensive care unit
NIRS:

Near infrared spectroscopy
RCT:

Randomized controlled trial
US:

United States
VLBW infant:

Very low birth weight
Declarations
Acknowledgements
The authors also wish to acknowledge members of the NEC-Zero working group who are not listed as authors for the time they were able to contribute including Dr. James Moore, Dr. Akhil Maheshwari, Dr. Jordan Leonard, and College of Public Health graduate, Scott Robert Johnson.
Funding
This project was funded by the Robert Wood Johnson Foundation Nurse Faculty Scholars Program (72112) and the Agency for Healthcare Research and Quality (K08HS022908). The content is solely the responsibility of the authors and does not necessarily represent the official views of the Agency for Healthcare Research and Quality or Robert Wood Johnson Foundation.
Availability of data and materials
Flow diagrams of decision-making to be incorporated into clinical decision support for NEC-Zero are available by contacting the first author. Tables of evidence reviewed by subgroups and an enhanced description of the process are available at the University of Arizona repository online.
Authors' contributions
SG conceptualized, led and oversaw all elements of the project, wrote major portions, and meta-analyzed data for feeding protocols and donor human milk derived fortifier. CH co-led the feeding protocol subgroup with KR and EU, drafting the initial feeding protocol section. CW co-led the human milk subgroup with SR and drafted the initial human milk section. MF participated on the human milk subgroup and analyzed the evidence related to oral colostrum care. EU co-led the feeding protocol group and worked with LM and TC to integrate family perspectives. SR co-led the human milk subgroup and drafted the original human milk recommendations. AA co-led the timely recognition group with SG, approving the recommendations proposed. TM participated on the timely recognition group and reviewed the evidence. KK co-led the medication stewardship group with JD. MQ reviewed evidence and participated on the timely recognition group with KD. JS participated on the medication stewardship group and drafted the original summary of evidence on antibiotics and H2 blockers. YE assembled the key questions, recommendations and implementation guidance. CP participated in creating family engagement materials to be included on the website with MA-R, CW, and YE. AM abstracted and analyzed evidence across the studies with SV. KR co-led the feeding protocol workgroup with CH and EU. JD co-led the medication stewardship group with KK, contributing key findings into the manuscript. All authors read and approved the final version of the manuscript.
Ethics approval and consent to participate
This project was deemed not research. Results present a review with expert assessment of recommendations and implementation strategies. All experts participated without coersion.
Consent for publication
All authors give consent for publication and assure that the paper is not in review by another journal nor have they been published before.
Competing interests
The authors declare that they have no competing interests.
Publisher's Note
Springer Nature remains neutral with regard to jurisdictional claims in published maps and institutional affiliations.
Open AccessThis article is distributed under the terms of the Creative Commons Attribution 4.0 International License (http://creativecommons.org/licenses/by/4.0/), which permits unrestricted use, distribution, and reproduction in any medium, provided you give appropriate credit to the original author(s) and the source, provide a link to the Creative Commons license, and indicate if changes were made. The Creative Commons Public Domain Dedication waiver (http://creativecommons.org/publicdomain/zero/1.0/) applies to the data made available in this article, unless otherwise stated.
Authors' Affiliations
(1)
Robert Wood Johnson Foundation Nurse Faculty Scholar, The University of Arizona College of Nursing, Tucson, USA
(2)
University of Nebraska Medical Center, Omaha, USA
(3)
Carle Hospital, Urbana, USA
(4)
Banner Health, Cardon Children's Medical Center, Mesa, USA
(5)
NEC Society, Fresno, USA
(6)
Graham's Foundation, Canton, USA
(7)
Banner Health, Banner University Medical Center-Phoenix, Phoenix, USA
(8)
Phoenix Perinatal Associates, Mesa, USA
(9)
Clinical Assistant Professor and Vice-Chair, Department of Pediatrics, The University of Arizona, Tucson, USA
(10)
Banner Health, Thunderbird Medical Center, Glendale, USA
(11)
Envision Physician Services, Lawrenceville, USA
(12)
Augusta University College of Nursing, Athens, USA
(13)
NorthBay Medical Center, Fairfield, USA
(14)
Hand to Hold, Dallas, USA
(15)
Neonatal Research Institute, Sharp Mary Birch Hospital for Women and Newborns, San Diego, USA
(16)
Stetson Hills Family Medicine, Glendale, USA
(17)
University of Sonora at Hermisillo, Hermosillo, Mexico
(18)
Nationwide Children's Hospital and The Ohio State Wexner Medical Center, Columbus, USA
(19)
Columbia University, New York, USA