Immediate postpartum use of long-acting reversible contraceptives in low- and middle-income countries
Maternal Health, Neonatology and Perinatology
2017
3:24
Received: 21 April 2017
Accepted: 5 October 2017
Published: 22 December 2017
Abstract
Globally, data show that many women of reproductive age desire to use modern family planning methods. Many of these women do not have access to modern contraceptives, which is termed their 'unmet need' for contraception. In low- and middle-income countries where total fertility rates can be high and many women have undesired fertility, or wish to increase their inter-pregnancy intervals, access to modern contraceptives is often inadequate.
The puerperium is a unique time for interventions to offer modern contraceptive methods. Having just given birth, women may desire contraceptives to prevent short-interval pregnancy, or further pregnancy, altogether. In high-, middle-, and low-income countries there has been an increased interest in the placement of long-acting reversible contraceptives at or immediately after delivery, regardless of delivery mode. These methods can provide women with highly effective contraception for years, can be manufactured at low cost, are generally well tolerated with a good safety profile, and do not require the user to remember to take them. Oral contraceptives and injectable medications require the patient to present to the clinic during a specific timeframe for follow-up care or a refill, and the clinic may not be proximate, affordable, or have the desired contraceptive in stock.
This document will review the currently published literature on the use of immediate postpartum long-acting reversible contraceptives (placed within two days of delivery) in low- and middle-income countries to report on the prevalence of use and satisfaction rates, and note the lack of data on cost and economic implications. We will also explore data on how future maternal, neonatal, and infant outcomes may be influenced by increased peripartum long-term contraceptive use.
Keywords
ContraceptionLong-acting reversible contraceptionImmediate postpartum contraception
Background
Long-acting reversible contraception (LARC) includes copper and progesterone-laden intrauterine devices (IUDs) and progesterone-only contraceptive implants, per the World Health Organization (WHO) [1]. LARC is the most effective method of modern contraception and offers the advantages of a rapid return of fertility with removal and are user-independent. Once the devices are placed, the woman does not need to perform any action to support ongoing effective use of the contraceptive [2]. It should be noted that some sources, such as the National Institute for Healthcare Excellence (NICE) guidelines from the United Kingdom, include progesterone-only injectable contraceptives in the category of LARC; for the purposes of this review on the use of postpartum LARC in low- and middle-income countries (LMIC), the definition will be restricted to IUDs and implants per the WHO [3].
Introduction
The background section of this paper established how LARC is defined, which contraceptives it includes, how it is recommended for use in the immediate postpartum period, and how safe and effective it is when used in real-world settings. Most data on these topics come from high-income countries (HIC). However, the focus of this review is on how LARC is currently being applied in the immediate postpartum setting in LMIC where availability of, access to, and utilization of LARC are less consistent for women in the postpartum setting.
Methods
The objective was to review all literature published from LMIC and summarize the findings. This review, while not a systematic review, did attempt to find all published manuscripts on the use of postpartum IUDs and implants currently in production. The search included the words "postpartum", "IUD", "intrauterine", "implant", and brand names for all devices currently in production. Studies included in the review involved work in sub-Saharan Africa, Southeast Asia, and Latin America. All studies mentioned are included in the references section. Countries are grouped into income categories by the World Bank, which groups WHO member states into income categories based on gross national income per capita. For 2016, LMIC encompasses countries with gross national income per capita between $1006 and $12,235 [10].
Demand and unmet need for modern contraception
Globally, unintended pregnancy contributes significantly to maternal morbidity and mortality, especially in LMIC settings [1]. The WHO estimates that 225 million women around the world desire modern contraception to delay or prevent future childbearing, but do not have access [11]. A review on the determinants of unmet need for family planning in LMIC defines the term as "the proportion of women wishing to limit or postpone childbirth, but not using contraception" [12]. The review found that among 26 quantitative and 8 qualitative studies, the unmet need for family planning in LMIC ranged from 20% to 58% with older age and higher educational level reducing unmet need, and a higher number of children increasing unmet need [12]. Primary reasons for non-use of modern contraception included an unsupportive partner or health concerns regarding adverse effects of the medications. These findings were not specific to LARC or the postpartum period, but addressed unmet need for modern contraception, generally [12].
Figure
1
, reproduced with permission from the United Nations, illustrates the percentage of married or cohabitating women using contraception and with an unmet need for contraception, by region, around the world [
4
]. Another resource, looking at data from Demographic and Health Surveys (DHS) reported that the average level of unmet need in the 16 countries reviewed was 47% ranging from a high of 82% in Ghana to a low of 23% in Morocco. [
13
] The WHO identifies sub-groups at highest risk for unmet need for contraception to include adolescents, migrants, urban slum dwellers, refugees, and women in the postpartum period [
14
].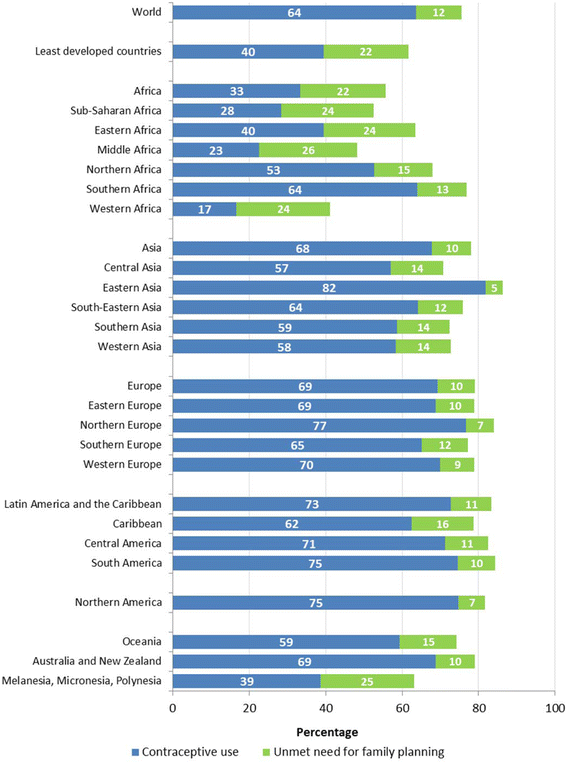 Of note, delivery in the facility setting appears to be increasing [15]. This finding is inferred from a recent WHO publication reports that between 1990 and 2014 the global average CS rate increased from 12.4% to 18.6% with rates ranging, depending on region, between 6 and 27.2%, and rising at an average rate of 4.4% per year [15]. Interestingly, it is not clear that this increase in facility births has translated to increased placement of postpartum contraception in facility settings, but is a potential point of entry in the healthcare system to target interventions [16].
Reasons for unmet need for contraception in postpartum period in LMIC
The Guttmacher Institute review on unmet need for postpartum contraception in LMIC asserts that the primary reasons given for non-use in this timeframe are the protection afforded to women by lactational amenorrhea and abstinence [13]. Women, for cultural reasons, may not be sexually active in the immediate postpartum period and may experience lactational amenorrhea during breastfeeding [13]. Lactational amenorrhea ranges, on average, from 3 to 4 months to 20 months in sub-Saharan Africa (SSA) [13]. Therefore, the timeframe during which a woman may be considering postpartum contraception varies by population and individual, which can make postpartum family planning programs difficult to design and administer [13].
Another reason unmet need for contraception in the postpartum period is high in LMIC is because postpartum visits are not common, and if women did not deliver in a facility, they will have little interaction with the healthcare system to consider contraception before they become fertile again [17]. Additionally, besides requiring the woman to access the system to obtain LARC, the healthcare system needs to provide the devices. This involves appropriate counseling ante- and postnatally, a consistent supply of the devices, and providers that are trained and available to place LARC in the postpartum setting [18]. A recent study from Nigeria found that in the poorest quintile, women had a 35% unmet need for contraception [19]. This finding is largely due to the fact that LARC is not offered in many facilities that poor women frequent and stock-outs are common, which are issues seen in many LMIC [19].
Significance of LARC in LMIC: Implementing strong family planning programs in LMIC is a global health priority. This is reflected in the Millenium Development Goals, goals four and five, which focus on reducing maternal and child morbidity and mortality, incorporate increasing family planning utilization as an essential method to achieve these aims. [12] Unmet need for contraception results in adolescent, unintended, and short interval pregnancies, as well as unsafe abortion, all of which can result in increased maternal and neonatal mortality [12]. Data has shown that pregnancies conceived less than twenty months following a prior birth are at increased risk of low birth weight, preterm birth, stillbirth, and neonatal and infant mortality [13]. Additionally, a 52-country DHS survey showed that children born less than two years after a sibling have a 60% increased risk of death at less than one year of age compared to those born three to five years after another child [13]. For reasons related to adverse pregnancy and abortion outcomes, as well as the social, educational, and economic impacts of unintended or undesired pregnancy, contraception in general, and LARC specifically, have an important role to play in LMIC.
Conclusions
The main conclusion of this review is that immediate postpartum LARC has been proven to be a safe and effective means of family planning not only to improve individual health, social, and economic outcomes, but also to achieve global priorities for public health. However, the review does highlight the fact that in each of the different topic areas addressed, there is a lack of high-quality data from LMIC, and that more research needs to be done on making the devices available, promoting programs for large-scale implementation, monitoring and evaluating the impact of LARC on fertility and subsequent pregnancy outcomes, and the cost and cost-effectiveness of such device use in LMIC settings. Additionally, the literature could benefit from more research on the limitations of the use of LARC in LMIC. It may be that these methods are inappropriate for use in such settings given lack of provider availability or training, potential for uterine perforation with placement of IUDs without the opportunity for adequate follow-up, and side effects may be either more pronounced or unacceptable in certain LMIC patient populations. The proof of concept groundwork has been laid that postpartum LARC is acceptable for use in LMIC. Now it is important to invest in the utilization of these products and study if they have the highly beneficial effects on individual and group health, social, and economic outcomes, expected.
Abbreviations
ACOG:

American College of Obstetrics and Gynecologists
CDC:

Center for Disease Control and Prevention
DHS:

Demographic and Health Surveys
FDA:

Food and Drug Administration
HIC:

High-income countries
IUDs:

Intrauterine devices
LARC:

Long-acting reversible contraception
LMIC:

Low- and middle-income countries
LNG:

Levonorgestrel
NICE:

National Institute for Healthcare Excellence
SEA:

Southeast Asia
SSA:

Sub-Saharan Africa
UN:

United Nations
USA:

United States of America
WHO:

World Health Organization
Declarations
Acknowledgements
With the publication of this document we wish to acknowledge all women in low- and middle-income countries who have an unmet need for postpartum contraception and hope to raise awareness about long-acting reversible contraceptives a method of meeting that need.
Availability of data and materials
No data or materials were used for the publication of this article beyond the review of those articles referenced.
Funding
This is a non-funded manuscript.
Authors' contributions
This manuscript was written and produced by MSH in partnership with RLG. Both authors read and approved the final manuscript.
Ethics approval and consent to participate
This review did not require ethics approval or consent to participate.
Consent for publication
Authors consent for publication of the document and have no competing interests.
Competing interests
The authors declare that they have no competing interests.
Publisher's Note
Springer Nature remains neutral with regard to jurisdictional claims in published maps and institutional affiliations.
Open AccessThis article is distributed under the terms of the Creative Commons Attribution 4.0 International License (http://creativecommons.org/licenses/by/4.0/), which permits unrestricted use, distribution, and reproduction in any medium, provided you give appropriate credit to the original author(s) and the source, provide a link to the Creative Commons license, and indicate if changes were made. The Creative Commons Public Domain Dedication waiver (http://creativecommons.org/publicdomain/zero/1.0/) applies to the data made available in this article, unless otherwise stated.
Authors' Affiliations
(1)
Columbia University Medical Center, New York, USA