Neonatal resuscitation: evolving strategies
Maternal Health, Neonatology and Perinatology
2015
1:4
Received: 24 September 2014
Accepted: 3 November 2014
Published: 22 January 2015
Abstract
Birth asphyxia accounts for about 23% of the approximately 4 million neonatal deaths each year worldwide (Black et al., Lancet, 2010, 375(9730):1969-87). The majority of newborn infants require little assistance to undergo physiologic transition at birth and adapt to extrauterine life. Approximately 10% of infants require some assistance to establish regular respirations at birth. Less than 1% need extensive resuscitative measures such as chest compressions and approximately 0.06% require epinephrine (Wyllie et al. Resuscitation, 2010, 81 Suppl 1:e260–e287). Transition at birth is mediated by significant changes in circulatory and respiratory physiology. Ongoing research in the field of neonatal resuscitation has expanded our understanding of neonatal physiology enabling the implementation of improved recommendations and guidelines on how to best approach newborns in need for intervention at birth. Many of these recommendations are extrapolated from animal models and clinical trials in adults. There are many outstanding controversial issues in neonatal resuscitation that need to be addressed. This article provides a comprehensive and critical literature review on the most relevant and current research pertaining to evolving new strategies in neonatal resuscitation. The key elements to a successful neonatal resuscitation include ventilation of the lungs while minimizing injury, the judicious use of oxygen to improve pulmonary blood flow, circulatory support with chest compressions, and vasopressors and volume that would hasten return of spontaneous circulation. Several exciting new avenues in neonatal resuscitation such as delayed cord clamping, sustained inflation breaths, and alternate vasopressor agents are briefly discussed. Finally, efforts to improve resuscitative efforts in developing countries through education of basic steps of neonatal resuscitation are likely to decrease birth asphyxia and neonatal mortality.
Keywords
Cord clampingMeconiumVentilationSustained inflationChest compressionsEpinephrineOxygen
Introduction
Among more than 130 million births per year globally, approximately ten percent of newborns require some form of intervention immediately at birth. It is estimated that 25% of approximately 4 million neonatal deaths worldwide are secondary to birth asphyxia [
1
-
4
]. Unlike the emphasis on restitution of cardiac activity in adult resuscitation, the Working Group on Pediatric Resuscitation has recommended that resuscitation of newborns should focus on ventilation of the lungs [
5
]. By 1985, the American Academy of Pediatrics (AAP) and American Heart Association (AHA) expressed a joint commitment to develop a training program aimed at neonatal resuscitation. The first edition of the Neonatal Resuscitation Textbook was published in 1987. Since that time, the International Liaison Committee on Resuscitation (ILCOR) has continued to develop and publish a consensus on the science of resuscitation approximately every five years [
6
]. The initial recommendations were based predominantly on opinions from experts in the field. Through extensive research and review of literature in the past two decades, neonatal resuscitation guidelines are increasingly derived from experimental and experiential evidence from simulation manikins, animal models, randomized clinical trials [
7
-
9
], and systematic clinical observation [
10
]. However, certain aspects of the current guidelines remain controversial given the difficulties in conducting randomized clinical trials due to the infrequent and often unpredictable need for extensive resuscitation. Many research studies in neonatal resuscitation are conducted using postnatal, term animal models that fail to adequately depict the transitioning fetal circulation, an open ductus arteriosus, fluid-filled lungs and, in case of preterm birth, premature lungs. Deleterious effects associated with various steps of neonatal resuscitation such as hyperoxemia [
10
], barotrauma due to positive pressure ventilation (PPV), mechanical effects of chest compressions (CCs) and resuscitative medications [
11
] are being increasingly recognized. Hence, the guidelines for neonatal resuscitation focus on ventilation while establishing a functional residual capacity (FRC) without causing lung injury, optimizing oxygen delivery to the tissues without inducing toxicity, and hastening return of spontaneous circulation with effective CCs and drug delivery. The physiological basis of current and planned resuscitative measures is outlined below. A summary of important changes in the current version of neonatal resuscitation guidelines is shown in Figure
1
.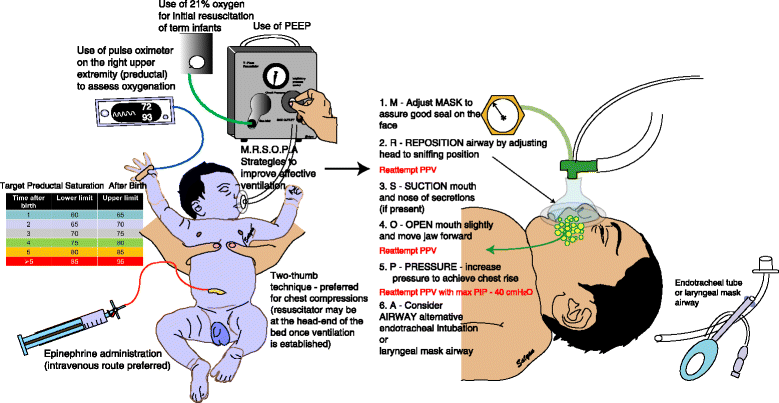 Conclusions
Over the past few decades, a tremendous amount of knowledge has been gained in the field of neonatal resuscitation. We have also identified gaps in knowledge on how to best approach and treat newborns in need of aggressive resuscitation. The emphasis should lie on optimizing ventilation, while avoiding lung injury and hyperoxemia. Though sustained inflations may prove to be beneficial, the means by which to best provide positive pressure ventilation to establish and maintain a functional residual capacity, how to best assess ventilation and how to decrease mask leak remains to be determined. In the rare instance that chest compressions and medications are needed to achieve effective return of spontaneous circulation, the optimal compression to ventilation ratio, the timing, route, dose and type of vasopressor still needs to be studied. With the advancement of science and the development of technology, it is expected that healthcare providers will have more reliable tools to reduce the rates of newborn mortality.
In addition to technological advances, the need for further research evaluating strategies for education, dissemination of knowledge and appropriate interventions for resource-limited settings is important. Simple interventions such as delayed/physiological cord clamping, drying and stimulating newborns, and bag-mask ventilation along with programs such as 'Helping Babies Breathe®' will have a significant impact on reducing mortality and morbidity secondary to birth asphyxia worldwide.
Abbreviations
AAP:

American Academy of Pediatrics
ACOG:

American Congress of Obstetricians and Gynecologists
AHA:

American Heart Association
BPD:

Bronchopulmonary dysplasia
CCs:

Chest compressions
CPAP:

Continuous positive airway pressure
CPP:

Coronary perfusion pressure
CPR:

Cardiopulmonary resuscitation
CV ratio:

Compression to ventilation ratio
FRC:

Functional residual capacity
HBB:

Helping Babies Breathe®'
HIE:

Hypoxic-ischemic encephalopathy
ILCOR:

International Liaison Committee on Resuscitation
IV:

Intravenous
IVC:

Inferior venous cava
MAS:

Meconium aspiration syndrome
MSAF:

Meconium stained amniotic fluid
NNT:

Number needed to treat
NRP:

Neonatal Resuscitation Program
PEEP:

Positive end-expiratory pressure
PPV:

Positive pressure ventilation
RCT:

Randomized controlled trial
SI:

Sustained inflation
USAID:

United States Agency for International Development
VT :

Tidal volume
WHO:

World Health Organization
Declarations
Acknowledgment
SL is funded by grant 1R01HD072929-0.
Authors' Affiliations
(1)
Department of Pediatrics (Neonatology), University at Buffalo, Buffalo, USA
(2)
Women and Children's Hospital of Buffalo, Buffalo, USA
(3)
Division of Neonatology, Department of Pediatrics, Women and Children's Hospital of Buffalo, Buffalo, USA
Copyright
© Vali et al.; licensee BioMed Central. 2015
This is an Open Access article distributed under the terms of the Creative Commons Attribution License (http://creativecommons.org/licenses/by/4.0), which permits unrestricted use, distribution, and reproduction in any medium, provided the original work is properly credited. The Creative Commons Public Domain Dedication waiver (http://creativecommons.org/publicdomain/zero/1.0/) applies to the data made available in this article, unless otherwise stated.